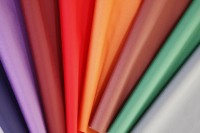 100% polyester fiber 12/12 high tenacity yarn dyed.
Available in 15 colors with water repellent treatment and coating in vinyl, which give the 100% waterproof and allows its use in 4 seasons making it resistant to stains.
Sold in rolls of lm.50 - Width 179/180 cm. - Weight gr.420 per linear meter – minimum quantity lm. 1.200
Excellent color fastness to sunlight and resistance to UV rays. Resistant to deformation and the tractions and is suitable for use in the production of furniture and cushions for indoor (home, office, gym) and outdoor (pool, beach, boat).
Color References: