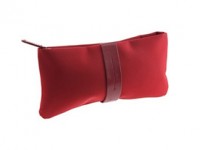 Fabric 100% polyamide with PVC foam.
We produce it in 16 different colors only by request (minimum quantity lm.600) - rollslenght lm.30 - width 148/150 cm. - weight: 630  gr/lm.
Used in handbags, advertising and gadjet sectors.
Also available with PVC resin, acrylic or polyurethane.
We carry out colours and special productions on demand.
Color References: